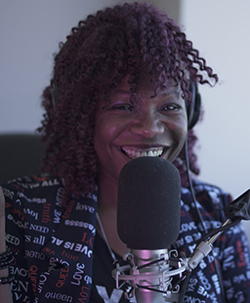 Bio:
Born LaTonya White, Simply Tee Poetry is an American Poet and international performer born in Fayetteville, NC and raised in Prince George County, VA.
The freestyling emcee turned competitive spoken word artist has humbly worked her way from remote open mics to respected national poetry stages. Sharing the stage with her mentor, 3rd Rail Poet known for penning Don't Take It Personal, by R&B artist, Monica. Simply Tee, has also opened for Floacist of Floetry, and performed alongside Sunni Patterson, Taalam Acey, Sonya Renee Taylor, Natasha T. Miller, Christopher Michael, and many others. 
As a United States Army veteran with 15 years of active duty experience, Simply Tee has completed 3 tours overseas, traveled to more than 6 countries, and lived in more than a dozen cities. In 2004, just one year after enlisting, Simply Tee became a staple at the Under 1 Roof bookstore while stationed in Killeen, TX. Here, she joined the Poetry Warriors where she was invited to compete across the state emerging as the 2007 Best Female Slam Poet in Ft. Worth, SpitDat in Austin, and placed in the Ride or Die Slam Competition just before her first  Army deployment.