Mitra Rashidian, PhD, LMFT, ACS.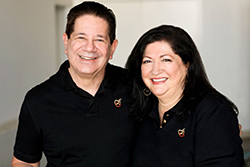 Bio:
I specialize in human sexuality and female sexual empowerment.  As clinician and a researcher, I have been able to help women increase their sexual awareness, self-esteem/self-worth and to appreciate their femininity by educating and empowering them to voice their concerns. In my private practice, I work with individuals and couples in order to help them enhance all aspects of their relationships, sexual trauma, sexual difficulties affecting interests, behaviors, and sexual enrichment.
I am a Licensed Marriage and Family Therapist, and a certified sexologist in private practice, in Encino California. I am a nationally and internationally recognized researcher, publisher, and speaker in sexual health care, cross-cultural sexuality, and acculturation. I hold a Ph.D. in Counseling from the University of New England (UNE), School of Health, in Australia, a Master of Science Degree in Counseling, from California State University, Northridge, School of Educational Psychology in California, plus, I am an Honorary Adjunct Faculty member at the School of Health, UNE since 2014. I completed a two-year post-doctoral fellowship and led my research projects jointly with the University of New England, School of Health, Australia; University of California, Irvine, School of Medicine, USA; and, Loma Linda University, School of Health, USA. I have presented at continuing education workshops locally and have been featured as a guest speaker on both international television and radio programs. My full publications can be found at the ResearchGate:
You may contact me at: rashidianmitra@aol.com or at my office at: 818-745-1014.